Bulk Product Prices Updater
VERY IMPORTANT: Before using the bulk price updating functionality we strongly recommend that you first backup your product catalogue, please make sure you export and download a minimum of 'Products standard', 'Prices' & 'Stock/SKU' from Export/Import and retain these files in a safe place in case you need to revert.

The filters at the top of the screen allow you to select the products that you wish to update.
First using these filters to refine your selection.
Next click the 'Update price' button and a pop-up (see below) will be shown where you can set the price update rules to be applied.
You can select from a range of optional parameters, including the ability to increase or decrease prices, by a flat rate/amount e.g. + or - £1 or a percentage + or - 10% etc.
You can update both your selling prices as well as your cost prices.
Useful if you update by a fixed amount you can skip items with zero price

If you are using customer groups you can select the group name of the prices that you wish to alter.
You can also decide if you wish to alter the cost prices for variants.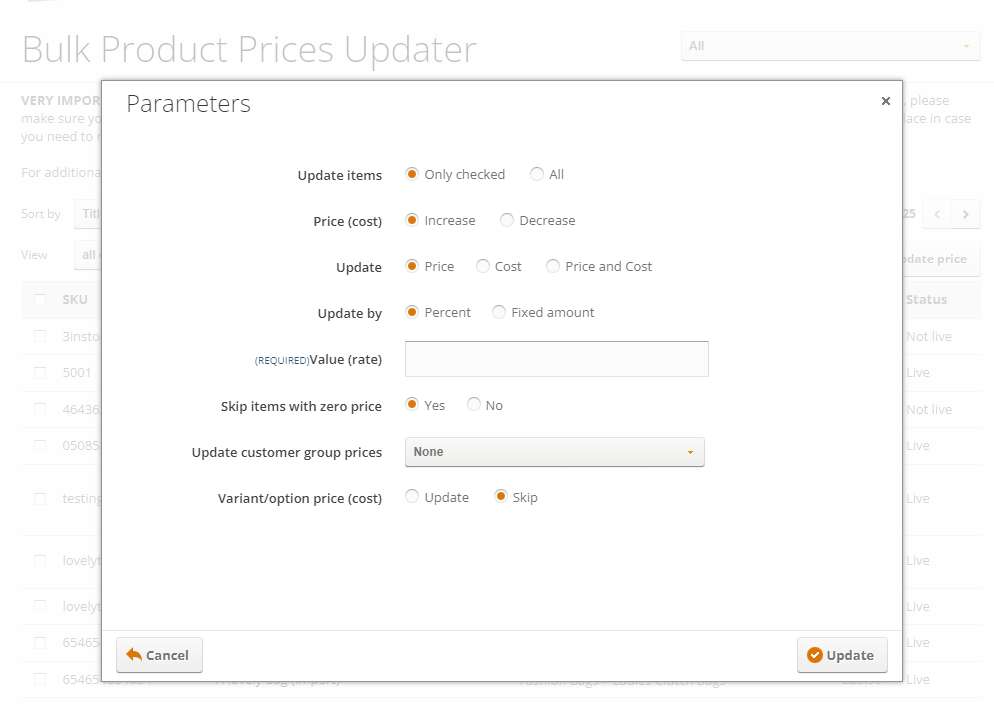 After making your selections simply click update this will instantly mass update all of the product prices selected.
In the event that you need to revert use the backup files referred to above and import using the Export/Import functionality.