ShopTill-e can help independent retailers and trade save precious time and improve their bottom line, as well as making it easy to manage and sell their products everywhere.
We've put together these points to help you make an informed decision about the benefits of ShopTill-e for your own business....
Benefits of multichannel selling
First, let's go back to the benefits of selling multichannel. A survey by Harvard Business, found that 73% of those surveyed used multiple sales channels during their shopping journey.
It showed that those who shopped multichannel were the most valuable customers to retailers, with an average spend of 4% more when shopping instore and 10% more online, than single-channel customers.
These multichannel shoppers were found to be more loyal with 23% more repeat visits to the retailer's shop, as well as more likely to recommend that retailer than those who used a single sales channel.
And surprisingly, it found these multichannel shoppers who searched online beforehand, led to greater in-store purchases. Traditionally it had been thought that shoppers "showroomed" ie researched instore and then bought online, but the survey found vice versa with shoppers "webrooming".
In summary it found a retailer offering multichannel capabilities ultimately drew more shoppers to their physical shops, as well as a higher spend.
So with the above in mind it seems obvious that retailers should provide shoppers with a multi-channel experience.
But a question often asked is…
How can retailers sell multi-channel efficiently and cost-effectively?
Selling multichannel is often thought of being complicated, for example stock control can be challenging; if you sell a product through one channel it also needs to update on the other sales channels too so that stock levels are uptodate, but this often means a manual process or an expensive integration.
Also keeping products uptodate can be a minefield, updating each sales channel with current data, new products, and prices.
Another element is reporting, viewing reports for each channel but not necessarily seeing the complete story across all your sales channels, which means you could be making assumptions rather than having a clear picture in real-time.
And, using different software, system, or platform for each sales channel is obviously time consuming and can also be costly, paying for each element and all the functionality needed.
And that's where ShopTill-e can help….
Get seamless, multichannel selling
What if you could use just one system to sell everywhere, offering that seamless shopping experience that a consumer wants?
Just one system that allows you to sell in-store, sell online, sell on marketplaces, upload your catalogue to Google Shopping, Instagram and Facebook.
One system where inventory is centralised, just add your products once, there's no double entry of products, you choose where you want to sell and as each product is sold stock levels are automatically adjusted, in real-time, so you're always uptodate.
One system that you can oversee from anywhere, at any time and view reports of what's selling where and when.
Welcome to ShopTill-e....
1 - What is ShopTill-e?
It's a multichannel retail system, it's all-in-one retail software that allows you to sell where your customer are. It includes :-
A point of sale (epos) till system to process shop sales and take payments
An ecommerce platform with a choice of pre-designed shop fronts, to sell online
Marketplace integration to sell and manage products on Amazon, eBay, Etsy, etc
Ability to upload products to Facebook, Instagram and Google shopping
A central catalogue to manage all the above, as well as track inventory, stock levels and with easy stock re-ordering
The all-in-one retail software can work on your existing hardware such as laptop, pc, tablet as well as POS hardware.
ShopTill-e is incredibly flexible and powerful retail software, it has to be in this modern, retail world.
2 - Flexible, powerful software that grows with you at your pace
What do we mean by "flexible, powerful retail software"?
We understand that selling multi-channel can be a progression for some retail businesses and you may not be ready to sell multi-channel just yet, but you want the peace of mind of knowing that the retail system you choose will be ready to grow with you, and with ShopTill-e you can do that.
ShopTill-e's epos till system software and ecommerce platform can both work independently, but when they work together as an all-in-one multichannel retail system, its been called a game-changer by our customers.
This means that if you only want to sell in-store now but add ecommerce capabilities later you can… and if you only want to sell online now with the potential to add in store selling later… you can.
This flexibility also allows you to have as many retail outlets / locations and online shops as you like, all running from the same catalogue.
The multi-outlet and multi-webshop options mean you're never limited and you have a multichannel retail system that can grow with you at your pace and gives you access to all the tools to grow and thrive.
3 – ShopTill-e epos till system software (point of sale)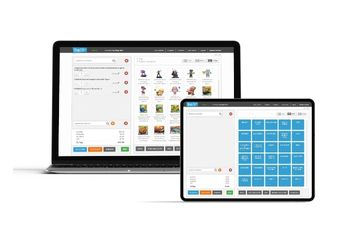 The ShopTill-e ePOS till system is software can work on a wide range of POS hardware and equipment that stores and tracks your inventory and rings up sales.
You may want a professional set-up, with an all-in-one touch screen POS monitor, mounted on countertop, receipt printer, barcode scanner and cash drawer or you may want it to run on laptop, PC or tablet, and that's all ok with the ShopTill-e ePOS system software.
The simple layout means you can quickly process customers sales and there's an easy search function too. Set up quick keys for even speedier transactions of your regular products. Take card payments with integrated epos payments or it can work with your existing merchant account and print or email receipts.
Boost sales with customer loyalty points and promotions, and sell and take gift vouchers as well as track exchange and returns.
Scale quickly with unlimited till points, with unlimited staff user accounts, at no additional cost (based on one location). You can even open additional outlets with ShopTill-e's multi-outlet capabilities.
4 – ShopTill-e ecommerce platform
Set up your beautiful ecommerce shop using the ShopTill-e ecommerce platform and choose from one of the pre-designed ecommerce store fronts, that are mobile and SEO friendly, or we can create your own look and feel.
Add your brand, logo, colours, product imagery and data, your call to actions by using the easy to use back office area.
Get all the ecommerce features automatically included such as promotions, bundles, fashion matrix, powerful shipping options, reviews, gift vouchers, customer loyalty, blog and more.
The fast, easy checkout allows for guest checkout, as well as customer login where they can view their order history and wishlists.
We have some great ShopTill-e ecommerce examples such as www.penloe.com who sell clothing and sport equipment www.clathers.com for ladies clothes, accessories and gifts, www.miloandpi.uk for dog beds, www.trackandtrail.co.uk for outdoor clothing and equipment, sureshandsons.co.uk for food, herbs and spices, and www.argosytoys.co.uk for yes you guessed it, toys and gifts.
Why not take a look to get a feel for what you can achieve with ShopTill-e for your online shop.
5 - Sell on Internet Marketplaces & list on Facebook, Instagram and Google shopping
ShopTill-e seamlessly integrates with ChannelUnity* allowing you to sell on Internet marketplaces like Amazon, eBay, Etsy, Wayfair and more…
The integration synchronises your inventory and sales, in real-time, across your chosen marketplaces, so that changes in stock levels are updated and customer orders are imported into your ShopTill-e store, decreasing stock levels automatically across your sales channels.
There is also the ability to upload your product catalogue into Facebook, Instagram and Google shopping so that you can promote your products everywhere.
6 - Take payments easily
We've partnered with some of the major players in the market so you can start taking payments instantly.
With ShopTill-e ecommerce you can accept payments online through Stripe, Paypal, Klarna and Secure Trading. Set up your account and you can start taking payments immediately.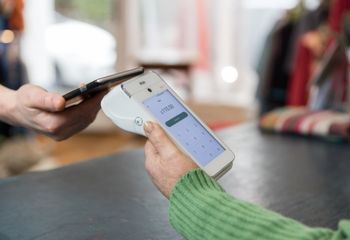 And for your in-store and face to face sales, the ShopTill-e ePOS system can accept payments instore using your existing merchant account, but if you don't have one, we can help you get yours with Dojo or Paymentsense .
With ShopTill-e's ePOS integrated paymentsyour card machine is fully integrated and talks directly with Dojo and Paymentsense for faster, quicker, accurate transactions.
They are always offering great rates to merchants, as well as fantastic deals such as "Upto £3,000 towards your exit costs if you're switching from another payment provider ". They aim to get you up and running in just three days, and there's no need to wait to get paid, funds are sent the next day.
There's also a pay on account feature too, perfect for those trade accounts. And we do not charge any transaction fees, ShopTill-e, there are no additional transaction charges for the sales you make via your ShopTill-e ecommerce store or ePOS till system.
7 - Keep control of stock over all your sales channels
We understand how important inventory management is, and keeping on top of your stock levels, so you'll be pleased to hear that you only need to add your products once into the central hub and ShopTill-e synchronises your inventory everywhere, across all your sales channels.
And each time a sale is made your stock levels are automatically adjusted, there's no manual process needed, meaning you're always in sync; sell in-store it's automatically reflected in your point of sale till and online, and vice versa.
This means you can stay on track and won't oversell, you're in complete control of your stock with the ability to view and assess all your stock easily, as well as track and control customer returns and exchanges.
Features such as low stock alerts and stock replenish alerts via email, all help to ensure you re-stock on time and never run out, as well as easy re-ordering functionality.
8 – Boost your sales with customer loyalty, promotions, gift vouchers and click and collect
Keeping your customers coming back time and again is always a challenge and with ShopTill-e loyalty programmes can be easily created, which are a great tool to help customers feel special.
Customer groups with unique pricing and tiered pricing means you can set differing pricing to different customer groups such as trade, VIP customers, people with accounts etc.
Promotions such as product discounts, site wide discounts, bogoff, percentage discounts and bundles, are all possible.
And with additional benefits of them working across both ePOS till system and ecommerce website, it offers a seamless shopping experience for your customers.
Gift Vouchers can be sold and redeemed across both your retail and online shop, and for those consumers who want the ability to purchase online and pick up from store that's possible too, along with a number of other shipping and delivery options.
9 - Low cost, straight-forward pricing, with all the features included
The ShopTill-e monthly plans and pricing are easy to understand and low cost, but low cost doesn't mean it's not sophisticated, far from it!
We found with some retail systems on the market started with a low headline figure but you needed to upgrade to gain the features you actually need to sell successfully, such as use of the discount system, or to sell gift vouchers, or even to get support, thus making the monthly fee more expensive… but not with ShopTill-e.
Other systems charge for extras, we don't, we include it all automatically; afterall the more successful you are, the better it is for us too!
There's no catch - you get a feature-packed, powerful retail software solution, that's amazing value for money, so you can run, sell, manage and grow your retail business.
10 - What will it cost me?
As said above, we've got simple plans and pricing that are great value for money allowing you to improve your bottom line.
*Marketplace integration can be added to each plan should you wish to sell on Amazon, eBay etc, and we don't charge for this integration, although Channel unity will have their own fees however ShopTill-e has negotiated fantastic rates that you won't get by going direct.
Running a retail business has its challenges and here at ShopTill-e we want to provide you with a great retail platform that will make your retail journey as easy as possible by including all the great features automatically as standard.
11 – View and monitor your retail business in real-time
ShopTill-e is a cloud-based retail solution, but what does that really mean and how does it help?
It means all your data is accessible by you anywhere, anytime, and that's just one of its great strengths.
You can view sales and transaction history, best-sellers, manage discounts and promotions, customer details and much more, enabling you to run your retail business as efficiently as possible.
There's no software to install or download and storage space for data can be expanded as needed, allowing you to grow.
Access to the latest technology is another great bonus and rather than having to pay for new updates or install the latest software versions, ShopTill-e is automatically updated, meaning you are always on the newest version.
12 - Support, we're here to help you
You can be up and running with ShopTill-e literally the same day. It's easy to add your products, brand it yours and start taking payments, and we're always here to help you.
We have a UK office, with a UK telephone number and provide UK support. We are experts in retail and ecommerce and are a friendly team who will always take the time to help, as we want to do all we can to support you to make a success of your retail business.
If you have any questions or need help in your retail journey, such as setting up your ShopTill-e store, taking payments, multi-channel selling, uploading products, adding an image, reporting, shipping, hardware choices and more - that's no problem.
"Earlier this year I made the decision to transfer my online store over to ShopTill-e and I am so pleased that I did. Not only is it super easy to add all your products to the online store and navigate your way around, the Epos system is brilliant too. The biggest draw though is the support you receive, they really are brilliant and on hand for any technical issue big or small. I cannot recommend them enough."
Would you like to experience ShopTill-e for yourself?
It's impossible to list all the features here, but hopefully we've answered a few of your questions.
Why not book your personalised demo and one of our experts can walk you through the system and answer any questions you may have.
We'll also set you up a free 14 day trial so you can play in your own time and see how it can work for your own business. You don't need to enter your credit card details, only once you're happy to proceed when the 14 day trial has expired, will we ask for your details, keeping you in complete control.
Are you ready to embrace ShopTill-e for multichannel retailing?
ShopTill-e is the perfect retail solution to the growing demand from your customers, providing you with all the tools you need to sell multi-channel successfully, as well as improving your bottom line with its timesaving features, ease of use and cost-effective plans.
"Signing up to Shoptill-e was a game changer for us. This system can do so much for your business and makes a huge impact on moving your business forward. The team at Shoptill-e are so helpful, nothing is a problem and they deal with queries and questions quickly."
*prices are subject to vat at the standard rate, marketplace integration is through Channel Unity and they charge £20.00 per month and 1% of marketplace sales.