Important Note: Please also see ePOS 'Without Receipt' Returns, Exchanges and Cancellations.

For Ecommerce Website orders Returns, Exchanges and Cancellations are initiated from your orders list screen (Found within the 'Orders' > 'Order List' menu) if an ePOS order you can barcode scan the order number shown on the receipt to instantly open the order detail.

Click on the 'pencil' icon to view an order. Orders can be searched by order number, all receipts printed from the system will have the order number as a barcode which you can scan into the search field to instantly locate the customers order.
At the top of the order detail screen you will see the 4 options of 'Exchange', 'Returns', 'Issue refund' and 'Cancel':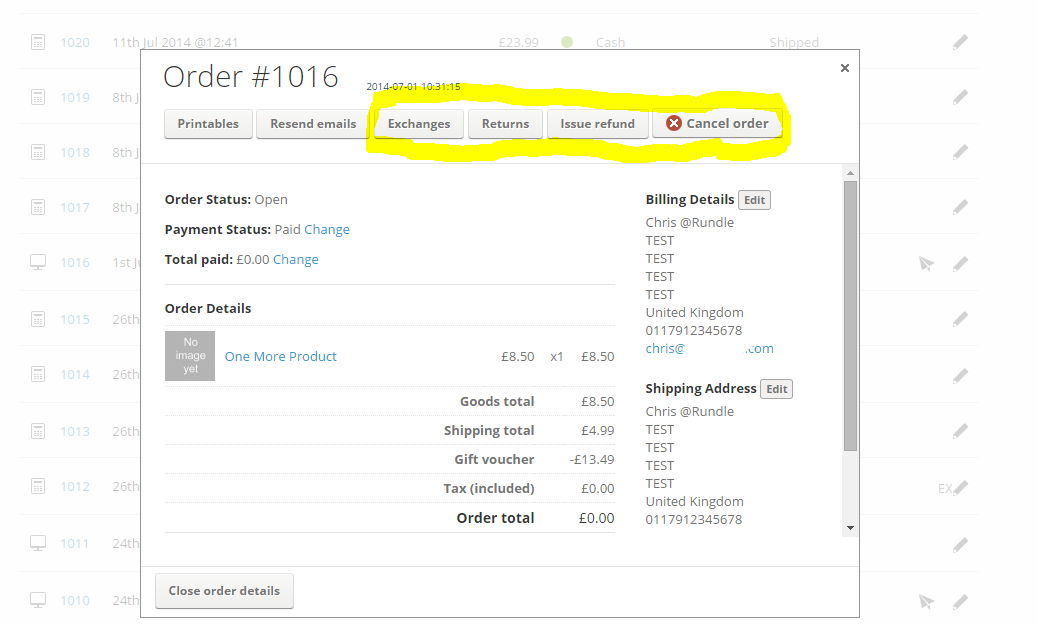 Clicking Exchange will open the exchange screen, from the first drop down list pick the item to be exchanged then the quantity to be exchanged from the next field.
Start typing in the replacement product field and this will list the product names for the exchange. The list of reasons for the exchange are controlled by you in the Exchange/Return Reasons within the 'Settings' menu:
The 'Returns' screen is similar to 'Exchanges' above however the products from the order are listed at the top with an 'Arrow' icon which allows you to move the relevant product that is being returned to the right side. The reasons for the return are controlled by you in the Exchange/Return Reasons within the 'Settings' menu:

The refund screen allows you to specify a refund amount:
If you choose to simply cancel an order you have the option to put the products back into stock or not:

Also see Gift Vouchers for refunds