Point of Sale - POS System Hardware Options
With the ShopTill-e ePOS Till system you don't need to buy expensive point of sale - POS hardware…
ShopTill-e ePOS has been created to work with a keyboard and mouse or a touch screen device, then simply add a cash drawer & receipt printer. For example it's compatible with a desktop, laptop or notebook, PC or Mac, Windows 10 Tablet, iPad or Android Tablet.
So if you're looking for an affordable Point of Sale platform that delivers more than just a cash register, the ShopTill-e ePOS Till system could be just what you are looking for.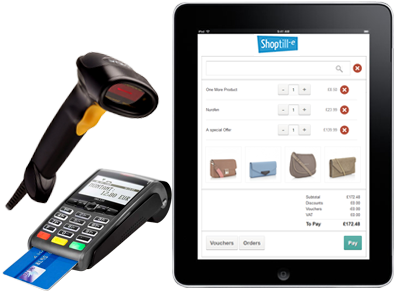 Instant POS set-up, works with your existing equipment; any computer PC or Mac either with a Touch Screen or with mouse & keyboard, as well as other devices such as a Windows 10 Tablet an iPad or an Android tablet (mPOS). Just add an (optional) bar code scanner and/or receipt printer for extra speed and convenience at your checkout.
What POS System hardware should I consider?
The ShopTill-e ePOS has multi-till point capability so that you can mix and match your POS hardware depending on your exact needs.
We have put together some ideas below to give you an example of several POS hardware configurations that may be beneficial to you :-
Desktop or All-in-One PC or Mac
When using a desktop PC / Mac you can easily mount a touch screen on your counter top or depending on your counter size put the screen on top of the cash drawer.
If you don't have a touch screen simply use the ShopTill-e ePOS with your keyboard, mouse and/or barcode scanner.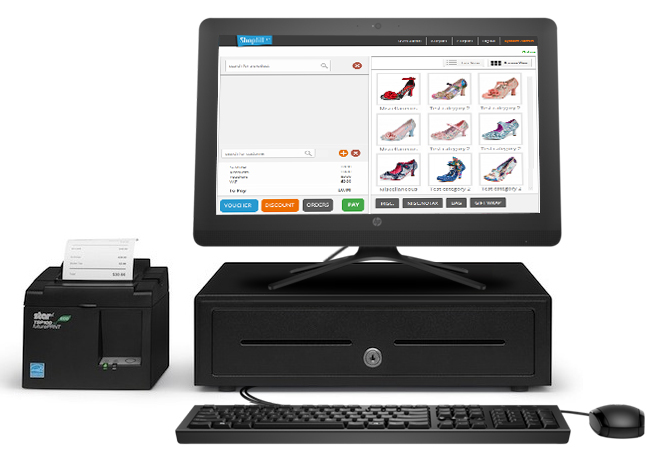 Click to view PC & Mac Desktop POS Hardware Options
Laptop or Notebook, PC or Mac
Using a laptop/notebook provides a compact POS set-up where the computer can sit on top of the cash drawer or counter depending on the counter space you have available.
If you have a touch screen notebook, use the ShopTill-e touch screen friendly, till ePOS screen.
If not ShopTill-e works just as well with your keyboard, mouse and/or barcode scanner.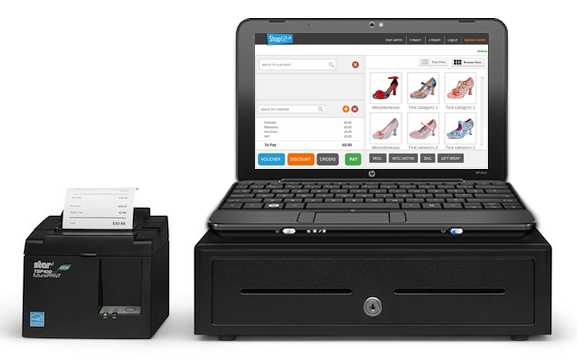 Click to view PC & Mac Notebook POS Hardware Options
Windows 10 Tablet, iPad's or Android Tablets
When using a touch screen Tablet such as a Windows 10 Tablet, iPad or Android Tablet with the ShopTill-e ePOS, the Star mPOP provides a good, compact till.
The mPOP is a combined cash drawer and receipt printer which makes it easy to relocate, so great for a mobile POS solution with a pop-up shop, small retail outlets or at festivals, events and exhibitions where space is at a premium.
Also the ShopTill-e ePOS will support an external keyboard, mouse and/or barcode scanner, if you prefer.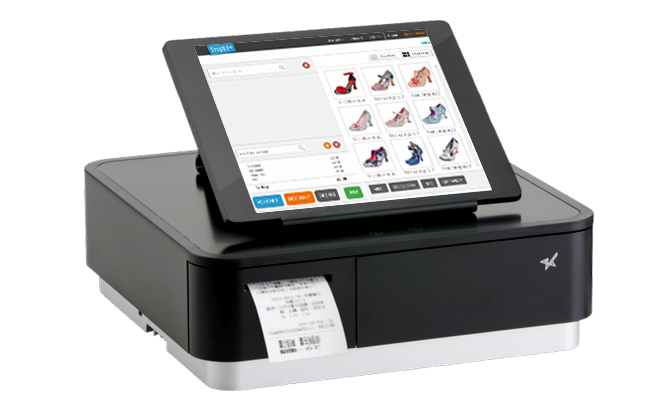 Click to view Tablet PC POS Hardware Options
Point of Sale - POS System Hardware Requirements
ShopTill-e ePOS works with modern Web browsers which support our offline mode feature e.g. Google Chrome, Safari, Firefox. We recommend using Google Chrome with both PC or Mac computers including Windows 10 Tablets.
When using iOS or Android, due to the way these operating systems print, the Star WebPRNT browser may be required depending on the receipt printer you opt to use. You can read more about receipt printing when using iOS and Android in our support documentation.
Click on the images above to view the POS System hardware choices in our Point of Sale - POS online store, alternatively contact us to discuss your Point of Sale - POS System hardware requirements for your retail business.