Do you want an easy way of knowing how much stock you hold for each product line, what stock needs to be ordered and how to raise a supplier purchase order, quickly and easily?
Using many solutions and / or spreadsheets to manage your stock and orders can make it time-consuming and difficult.
With ShopTill-e you can maintain accurate stock levels and keep track of all your products, as you sell and restock them, across multiple sales channels and suppliers.
And with ShopTill-e's latest inventory management functionality it can make stock re-ordering a breeze…..
Manage all your sales and purchase orders in one place
Automatically create and build purchase orders for a supplier for easy stock re-ordering
Click and instantly add products with low stock to a purchase order
Ability to quickly search and add products to purchase order
Fast search and find products with particular stock numbers
Ability to link products to multiple suppliers
Receive and track incoming stock, automatically update stock holdings, ability to add notes against discrepancies
Fast, easy and accurate stock re-ordering and inventory management
Fast to re-order stock from your suppliers
Easy to receive and track incoming stock
Information at your fingertips
Know and understand where you are with your inventory
Comprehensive inventory management
A good inventory management system should make the running of your retail business easier, faster and more efficient and with ShopTill-e's in-depth stock control functionality you can keep on top of all your inventory and stock.
ShopTill-e synchronises across all your sales channels so you can be confident that your stock levels, no matter where you sell, will be adjusted after every sale, eliminating the risk of overselling.
It also includes a stock replenish feature, so you know what's been sold in a particular time period and whether shelves need to be restocked. And with the ability to set low stock alerts, you know you're in control.
If you need to scale up as your business grows with additional till points, pop-ups or more sales channels, we have you covered.
ShopTill-e is an all-in-one multi-channel retail system that gives you the freedom to sell more, manage effectively, reduce costs and grow without limitations.
All-in-one multi-channel retail platform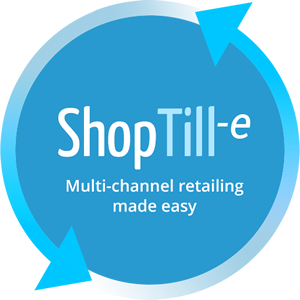 ShopTill-e is an all-in-one multi-channel retail platform that allows you to run and manage all your sales, inventory, in-store and online, using just one system. Everything in one place. Everything included. No additional add-ons or complicated packages. Multi-channel selling with ease.
Try ShopTill-e free for 14 days or book your demo .
Testimonial - ShopTill-e customer....
"What I like about the system is that it's easy to input new stock and get a product on our website within minutes of it arriving. Then as stock sells through we can replenish easily as we know how many we are looking for, and don't waste time looking for things we don't know we have. The click and collect feature has been working well for us. Technical backup is excellent. You and your team have been very helpful....."