What are the benefits of click & collect for retailers?
Modern trends within retail make it a fast-moving place for retailers themselves. Whether you own a small boutique or larger chain of stores, there are many things to think about now. From making sure your online eCommerce platform functions properly to selling via online marketplaces and also in-store, it is a constant battle to keep on top of everything. When you factor in changing trends in consumer shopping habits, then it gets even trickier at times!
One common way for customers to shop for goods now is via 'Click and Collect'. This sees them ordering the product online but actually collecting it in person at a physical store. You provide the option to pay online or when they collect - however, the general idea of 'Click and Collect' remains the same.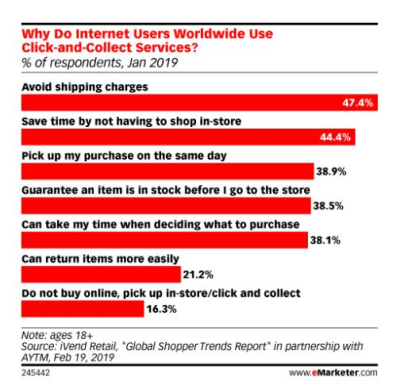 And according to e-marketer.com, last year saw 81.4% of internet users worldwide ordering items online for in-store pickup (up nearly 30 percentage points from the year prior). The reasons for this? Convenience and speed, avoidance of shipping fees, and to save time.
And with more and more retailers offering the click and collect option, what benefits can offering this service give to retailers?
The chance to upsell
One major benefit you may find from offering this way of shopping is when the customer actually comes into one of your shops to collect. It has been found that many consumers will actually be more inclined to buy extra goods when there - according to market research company Global Data a figure of 70% of those collecting or returning parcels will make impulse in-store purchases.
This gives you the perfect chance to upsell to them and generate more revenue than simply making the initial online sale.
Help to make more online sales
Many consumers love ordering via 'Click and Collect' as it means they get their purchase quicker and at a time that suits them. Very often, being able to select this method is the difference between them making a purchase with you or not. If you do not offer 'Click and Collect' then you will lose sales to competitors and not maximise your own.
Cost savings
Of course, all retailers are always looking to reduce costs and make more profit. Offering a 'Click and Collect' service is great for this as you will slash your delivery costs on sending everything via courier. While there may be an initial cost in getting things ready in store, it will soon be outweighed by the money you save on deliveries.
Make use of the latest methods to grow
Running a retail business means always reacting to the latest consumer trends and working in the most efficient way possible.
Click and collect integrates the online and the physical; as well as how you allow people to shop and obtain their goods, it's also key to streamline and integrate other key business tasks, such as your epos system with your eCommerce platform and online marketplace selling.
Doing this will save you time and money as well as offering a much better service to your customers.

All-in-one retail platform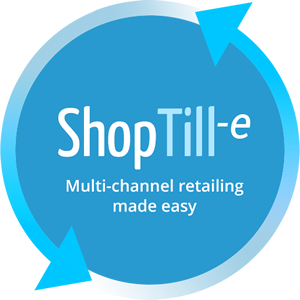 ShopTill-e is an all-in-one retail platform that allows you to run and manage all your sales, inventory, in-store and online, using just one system. Everything in one place. Multi-channel selling with ease.
Try ShopTill-e free for 14 days or book your demo.
Testimonial - ShopTill-e customer....
"What I like about the system is that it's easy to input new stock and get a product on our website within minutes of it arriving. Then as stock sells through we can replenish easily as we know how many we are looking for, and don't waste time looking for things we don't know we have. The click and collect feature has been working well for us. Technical backup is excellent. You and your team have been very helpful....."